Isn't it about time you had a Magnificently Insightful Brain?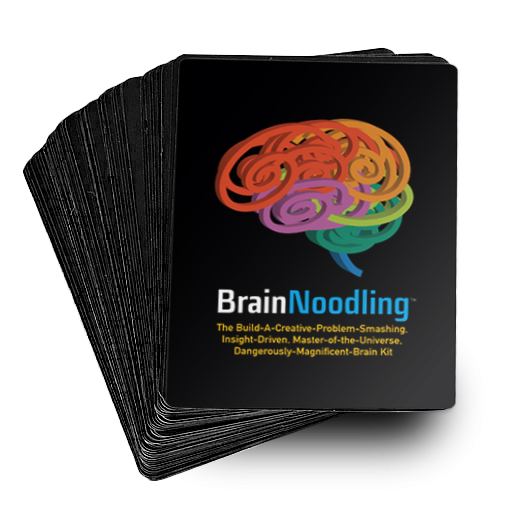 Introducing BrainNoodling™, the insight-readiness toolkit from Strategic Toolbox. Yes, the thinking skills that lead to more effective and insightful problem-solving can be learned!
Janese Evans of Strategic Toolbox created and adapted tips and tools based on her 30+ years in research, insights and helping clients get unstuck. Janese has both her MBA and a MS in Creativity.  She coaches and offers workshops for managers, marketers and educators on the skills and practices to be more creative and insightful.
Pick up the BrainNoodling™ starter pack and start boosting your insight, or expand your deck with BrainFlex™ and BrainBodies™ to achieve creative-problem-smashing results.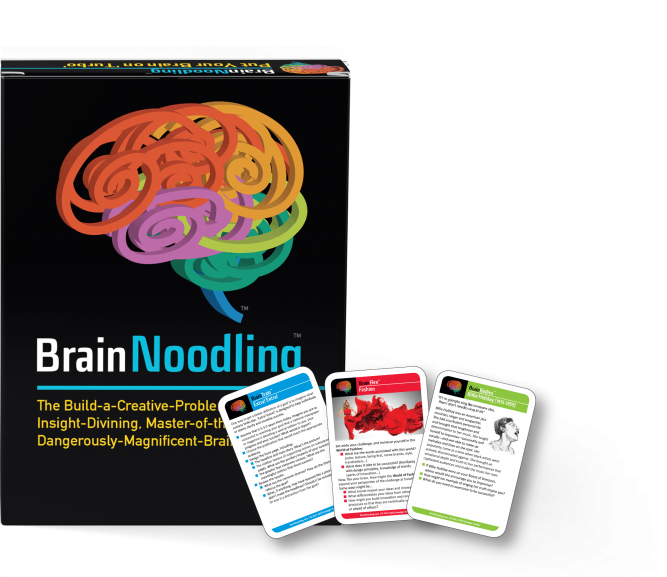 BrainNoodling
BrainNoodling is an insight-readiness toolkit. These tools and tips will help equip and stimulate you to solve complex problems that demand new ways of thinking: a blast of creative thought, a radical new vision, or a startling change in approach.
Train yourself to ask better questions, challenge your assumptions and see issues from multiple perspectives—all the essentials for insight-rich thinking!
The BrainNoodling deck is a starter set. It includes samples of three distinctly different processes. There are 40 cards in all:
BrainTrain™: Exercises and best practices for improving skills for insight-thinking (16 cards)
BrainBodies™: Break boundaries with the best minds around; these 12 cards are a quick start to try before grabbing another 40 in the BrainBodies deck.
BrainFlex™: Pump up your creative problem solving; there are 12 BrainFlex cards--all different than the full 40 BrainFlex deck.
BrainFlex is a BrainNoodling™ tool for training yourself or helping others to be more powerfully insightful in problem solving.
Buy the 40-card deck for $45.00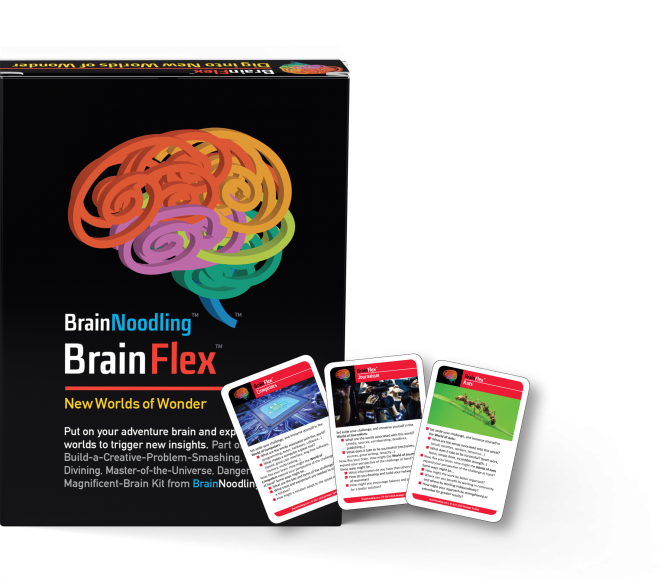 BrainFlex
Great insight-thinking challenges you to examine an issue from dramatically different perspectives. Immersing yourself in the language, skills and situations of different 'worlds' opens amazing new possibilities for creative connections. Jump into BrainFlex and use it to stretch your thinking and insights.
Abandon your daunting challenge for a few minutes.
Choose a BrainFlex card that intrigues you.
Immerse yourself in that 'world' using the prompts.
Now, flex your brain. Apply that thinking to your challenge.
All of your new ideas may not be trophy winners, but they all are guaranteed to give you new perspectives for decision-making.
Buy the 40-card deck for $45.00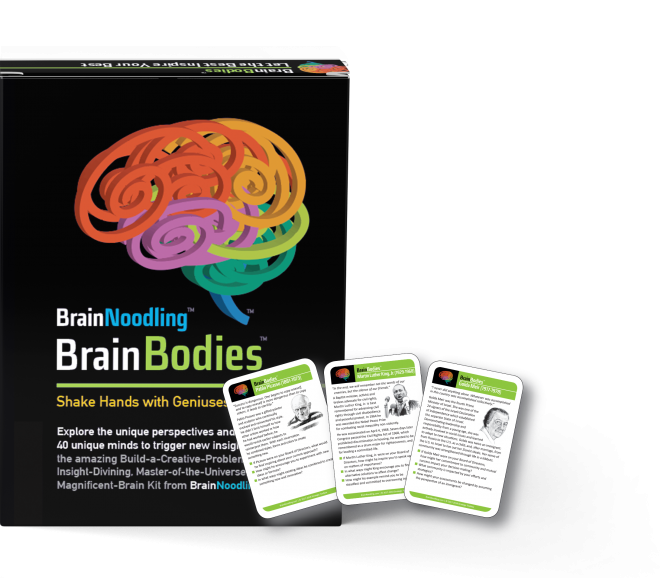 BrainBodies
BrainBodies is a BrainNoodling™ tool to help individuals and teams examine the unique perspectives of great minds to discover new insights.
Successful companies have a board of directors whose members challenge management's thinking and provide a broader point of view. Why not have your own board?
Choose the card of a brainy person you admire, select a perspective that challenges you or a path that differs significantly from yours.
Examine their perspectives and circumstances and ponder their probable insight.
We surveyed 2500 people about whom they'd choose and why; their feedback helped identify these 40 BrainBodies. Open yourself to learning from each provocative focus.
Buy the 40-card deck for $45.00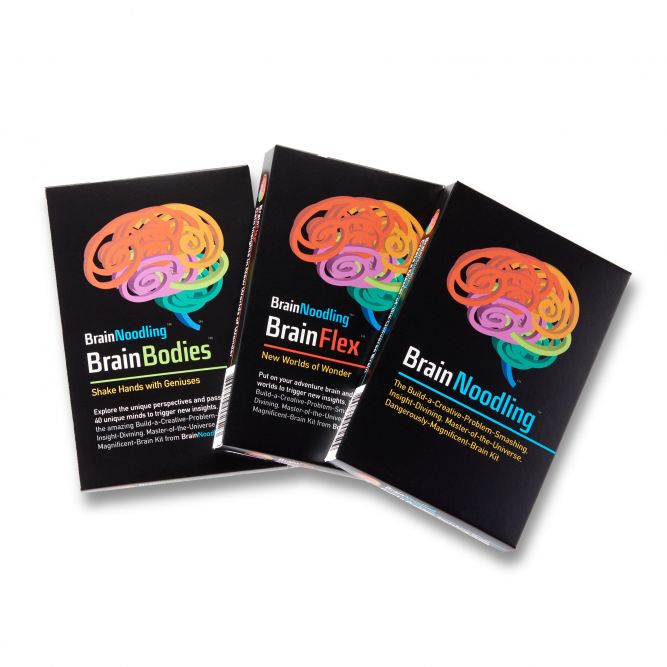 BrainBundle
Bundle all three and save.  Get the benefit of the Brain Noodling Toolkit, along with the full decks of BrainFlex and BrainBodies.  As a set, you'll receive the 16 BrainTrain cards, and 52 BrainFlex and 52 BrainBodies cards.  Perfect for facilitators or individuals who want to stretch their insight muscle!
Buy All 3 Decks $98.00