Isn't it about time you had a Magnificently Insightful Brain?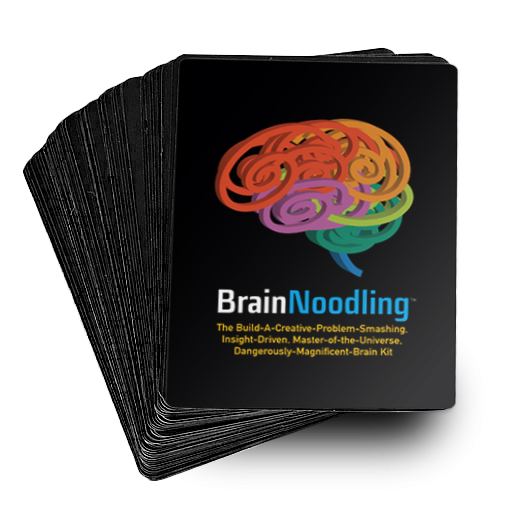 Introducing BrainNoodling™, the insight-readiness toolkit from Strategic Toolbox. Yes, the thinking skills that lead to more effective and insightful problem-solving can be learned!
Janese Evans of Strategic Toolbox created and adapted tips and tools based on her 30+ years in research, insights and helping clients get unstuck. She coaches and offers workshops for managers, marketers and educators on the skills and practices to be more creative and insightful.
Pick up the BrainNoodling™ starter pack and start boosting your insight, or expand your deck with BrainFlex™ and BrainBodies™ to achieve creative-problem-smashing results.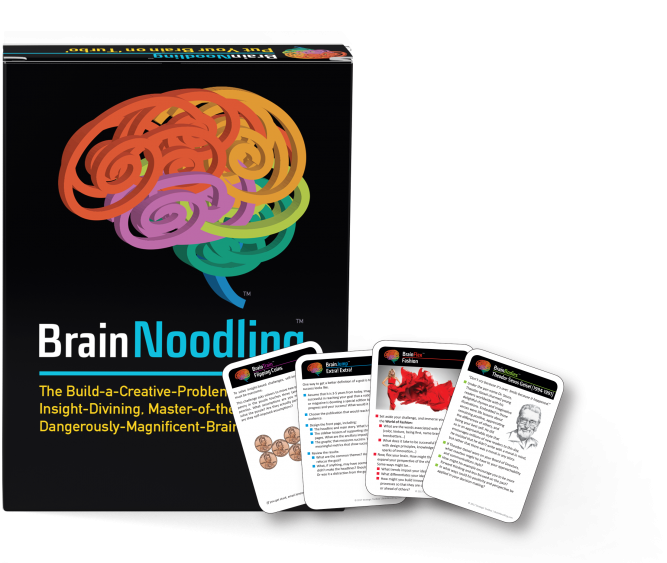 BrainNoodling
BrainNoodling is an insight-readiness toolkit. These tools and tips will help equip and stimulate you to solve complex problems that demand new ways of thinking: a blast of creative thought, a radical new vision, or a startling change in approach.
Train yourself to ask better questions, challenge your assumptions and see issues from multiple perspectives—all the essentials for insight-rich thinking!
The BrainNoodling deck is a starter set. It includes samples of four distinctly different processes. You can start anywhere, with any card; the important thing is to start noodling!
BrainJump™: Help your brain make leaps in thinking.
BrainTrain™: Daily exercises for breakthrough insight-thinking.
BrainBodies™: Break boundaries with the best minds around.
BrainFlex™: Pump up your creative problem solving.
BrainFlex is a BrainNoodling™ tool for training yourself or helping others to be more powerfully insightful in problem solving.
Buy 40 cards for $45.00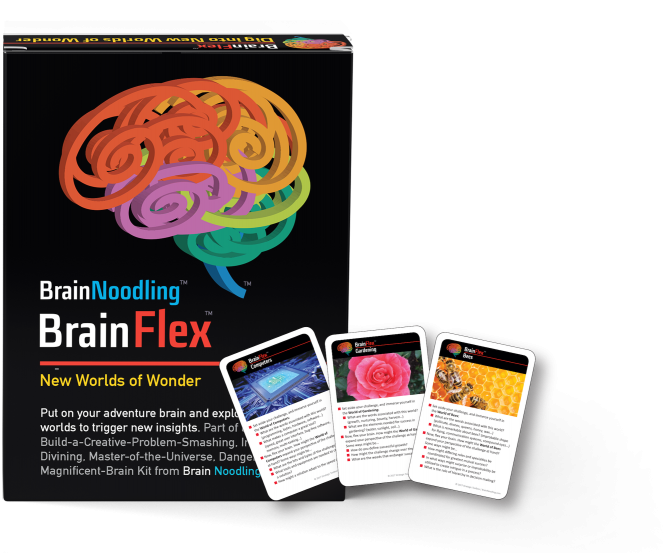 BrainFlex
Great insight-thinking challenges you to examine an issue from dramatically different perspectives. Immersing yourself in the language, skills and situations of different 'worlds' opens amazing new possibilities for creative connections. Jump into BrainFlex and use it to stretch your thinking and insights.
Abandon your daunting challenge for a few minutes.
Choose a BrainFlex card that intrigues you.
Immerse yourself in that 'world' using the prompts.
Now, flex your brain. Apply that thinking to your challenge.
All of your new ideas may not be trophy winners, but they all are guaranteed to give you new perspectives for decision-making.
Buy 40 cards for $45.00